PARALELLOGRAM HEAVY DUTY LIFT 12G272M1, 24G272M1, 36G272M1, 48G272M1, 60G272M1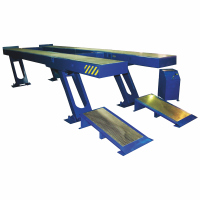 Designed for lifting trucks, buses, special vehicles, construction and agricultural machines while performing diagnostics, maintenance, repair, as well as on the lines of instrumental control.
The absence of the lower frame, side plates, bulky scissor mechanisms provides convenient access to the car and makes it possible to use floor lifts P114E-P114E-10-2, and 16-2, hydraulic racks, oil drain tanks, tool carts and other equipment during the repairs.
Mechanic's workplace is on the same level with other equipment of the service station, spare parts and tools warehouse which allows to eliminate multiple moves of the mechanic to the viewing pit and back;
Hydraulic gear;
Security is provided by the use of controlled hydrolocks while doubling mechanical locking devices on each ram;
Mounting options: "floor" and "flat floor"
Dimensions of lift assemblies in the package let you carry it by eurowaggon or 40-foot container
More detailed information on the equipment found at the link https://yadi.sk/d/Kw08RmrssfpUC
Technical characteristics
| | | | | | |
| --- | --- | --- | --- | --- | --- |
| Lift model | 12Г272МЕ | 24Г272МЕ | 36Г272МЕ | 48Г272МЕ | 64Г272МЕ |
| Load capacity, tons | 12000 | 24000 | 36000 | 48000 | 64000 |
| Lifting time, min | 1,5 | 1,5 | 1,5 | 1,5 | 1,5 |
| Length / width / height of the lift, mm | 6600..8900/2726/350 | 7400..11600/2726/350 | 11000..21600/2726/350 | 14600..31600/2726/350 | 18200…41600/2726/350 |
| Quantity of supports, pcs. | 4 | 4 | 6 | 8 | 10 |
| The height of the platform in lower and upper position, mm | 350 | 350 | 350 | 350 | 350 |
| Check angle, degrees ** | 12 | 12 | 12 | 12 | 12 |
| The length of the lifting platform, mm ** | 5000…7300 | 5800…10000 | 9400…20000 | 13000…30000 | 16600…4000 |
* Can be changed on request
More detailed information on the equipment found at the link https://yadi.sk/d/Kw08RmrssfpUC